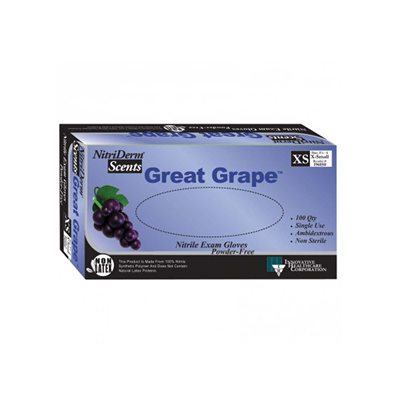 Press and move to zoom.
Mouse over image to zoom.
Medical grade purple scents nitrile gloves (10 boxes)
Product Code: GSBNG02-L-10
Nitriderm® Great Grape™ Nitrile Exam Gloves - Innovative Healthcare Corp
Characteristics
Designed for dentistry, our Great Grape™ gloves are colored to match their light and enjoyable scent. The exceptionally soft, low modulus nitrile synthetic compound is very comfortable for extended periods. Not only are they patient fun and friendly, they are excellent nitrile gloves with very good donning properties and a slightly tacky exterior finish which provides excellent gripping properties. Case is packaged with 10 boxes (1000/cs).
Features:
• Nitrile
• Latex free
• Powder free
• Grape color
• Textured finish
• Ambidextrous
• Nonsterile
• Low modulus formulation
• Grape scented
• Canadian Health Board approved
NitriDerm® Scents Great Grape™ is manufactured in compliance with multiple international standards, including the following:
ASTM D6319: Standard Specification for Nitrile Examination Gloves for Medical Application
ASTM D5151: Standard Test Method for Detection of Holes in Medical Gloves
ASTM F1671: Standard Test Method for Resistance of Materials Used in Protective Clothing to Penetration by Blood-Borne Pathogens
Average Length: 9.5 in ♦ 240 m
Average Palm Thickness: 3.2 mil ♦ 0.08 mm
Average Finger Thickness: 4.0 mil ♦ 0.10 mm