Gold plated threadless rook banana with 18k gold attachment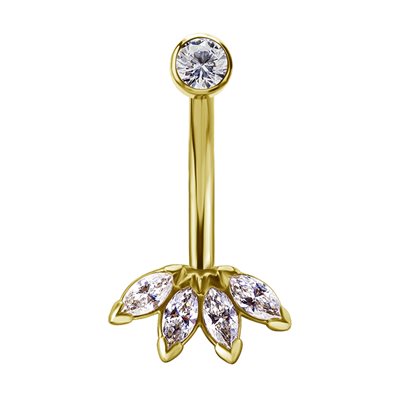 Double-tap and hold to zoom.
Mouse over the image to zoom.
Gold plated threadless rook banana with 18k gold attachment
Product Code: G18KYONSG05-8-8-WH
Introducing a revolutionary jewelry piece: the 24k Gold Plated Threadless Titanium Rook Banana with 18k Gold Attachment. Our product is perfect for rook piercings and will bring sophistication, confidence, and elegance to any ensemble.
The banana is made of titanium 6AL-4V-ELI ASTM 136 that is gold plated with 24k gold. This ensures maximum strength while being lightweight and comfortable to wear all day long. The attachment is an 18K solid gold adornment featuring four marquise cut genuine cubic zirconia gemstones for that added sparkle.
Our product combines luxury, sophistication, and refinement into one remarkable piece of jewelry, making it perfect for professional body piercers or resellers looking to stock their inventory with items that make an impact. You won't go wrong with this stunning addition!
Main material :

Titanium (6AL-4V-ELI, ASTM 136)

Secondary material :

18 karat solid gold

PVD Coating :

24k real yellow gold

Gem type :

Cubic zirconia

Threading :

Threadless

Classification :

Rook
What is threadless body jewelry ?
Indulge in th eluxury of high-quality body jewelry with innovatively designed threadless jewelry.
Brought to life by NeoMetal in 1997, this exceptional form of body adornment transcends traditional threaded jewelry by offering a sleek, seamless finish. The intricate push-fit or press-fit mechanism only adds to its allure, ensuring that the jewelry is held together by the perfect amount of tension.
Trust Trinity Piercing Supplies Canada to provide only the best threaless wholesale body jewelry, fit for those with a refined taste and an eye for unparalleled sophistication. Elevate your offering with threadless jewelry and leave a lasting impression.
What is Gold body jewelry ?
Gold, one of the most precious metals in the world, is suitable for initial piercings if it is 14k or 18k. However, gold above 18k is too soft for body jewelry as it is prone to scratches.
For yellow gold, G18K represents 18 karat (750 Gold) and G14K represents 14 karat (585 Gold). To learn more, refer to our Yellow Gold Alloy Data Sheet.
For rose gold, RG18K represents 18 karat (750 Gold). For more information, see our Rose Gold Alloy Data Sheet.
White gold, known as WG18K, is 18 karat (750 Gold) and is Rhodium plated. To learn more, refer to our White Gold Alloy Data Sheet. You can also check our Nickel Release Test for White Gold for further information.
We mark all our Real Gold items with either 750 (for 18 karat) or 585 (for 14 karat) wherever there is sufficient surface space. Moreover, our products are also labeled with the Swiss Responsibility Mark («Verantwortlichkeitsmarke»), ensuring the gold content of our products.
Our Nickel release certificates are free and available anytime here.
For more information about our products, visit our information center
You May Also Be Interested In