Medical grade black nitrile gloves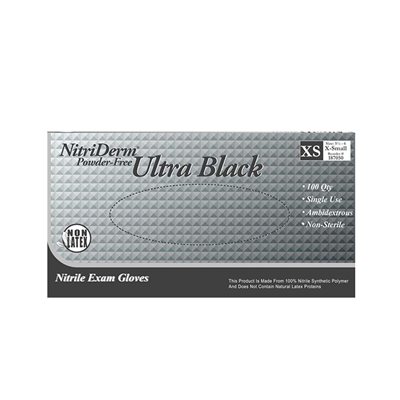 Double-tap and hold to zoom.
Mouse over the image to zoom.
Medical grade black nitrile gloves
Product Code: GSBNG01-L
Characteristics
This popular black color masks a variety of stains and is a true medical grade exam glove. Engineered with a medium modulus and high tensile strength, this glove is first choice for a wide range of end users including law enforcement and corrections. Textured for excellent grip. Black color. Tested to provide maximum protection from fentanyl exposure.
Features:
• Textured Finish for an Improved Wet/Dry Grip
• Non-Latex for No Risk of Latex Allergens
• Low Modulus for a Softer, More Comfortable Fit
• 100 Qty (by weight)
• Single use
• Ambidextrous
• Non-sterile
NitriDerm® Ultra Black is manufactured in compliance with multiple international standards, including the following:
ASTM D6319 - Standard Specification for Nitrile Examination Gloves for Medical Application
ASTM D5151 - Standard Test Method for Detection of Holes in Medical Gloves
ASTM F1671 - Standard Test Method for Resistance of Materials Used in Protective Clothing
Average Palm Thickness: 4.0 mil ♦ 0.10 mm
Average Finger Thickness: 5.5 mil ♦ 0.14 mm
Average Length: 9.5 in ♦ 240 mm