Titanium internal threadless barbell with 18k gold ball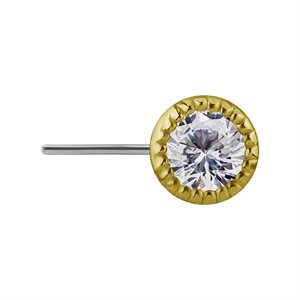 Double-tap and hold to zoom.
Mouse over the image to zoom.
Titanium internal threadless barbell with 18k gold ball
Product Code: G18KYNISG02-14-4.5-W
If you're looking for a nipple piercing that stands out from competition, look no further than the Titanium Internal Threadless Nipple Barbell with 18K Gold Ball. Offering sophisticated, refined style, this barbell is made from 6AL-4V-ELI ASTM 136 Titanium for durability and strength, and it features two 18K gold threadless attachment adorned with a brilliant cut cubic zirconia gemstone. Versatile enough for nipple piercings, the Titanium Internal Threadless Nipple Barbell with 18K Gold Ball is the perfect way to make a daring and confident statement.
Main material :

Titanium (6AL-4V-ELI, ASTM 136)

Secondary material :

18 karat solid gold

PVD Coating :

None

Gem type :

Cubic zirconia

Threading :

Threadless

Classification :

Nipple
What is a nipple piercing ?
Nipple piercings have swept the piercing world with an exquisite boom of popularity, captivating the interests of both women and men alike.
Although there exists a hint of sexual connotations surrounding piercings in sensitive areas, these stigmas aren't entirely unwarranted. Many enthusiasts assert that nipple piercings heighten sensitivity, offering an alluring touch to intimate encounters. However, it is vital to remember that this is but one facet of the allure associated with nipple piercings.
Embarking on the journey of adorning your nipples with exquisite jewelry is an empowering act of body positivity. These enchanting adornments not only enhance the appearance of your physique but also ensure that they demand attention, even within the confines of a snug-fitting t-shirt. Men and women alike proudly showcase their nipple piercings, a testament to their unwavering embrace of their beautifully unique forms.
For some, the appeal lies in the aesthetics alone. The allure of a discreet, exotic piercing that only you possess can be a thrilling secret to cherish, even when hidden beneath your everyday attire. Embrace the sophistication of nipple piercings and let them become a tastefully captivating element of self-expression.
What is Titanium body jewelry ?
Experience the elegance and reliability of titanium for all of your piercing needs. Compliant with the EU Nickel Directive, introduced in 2001, titanium is the ultimate choice for both initial and healed piercings. With virtually no nickel content, it has quickly become the preferred material for piercing jewelry across the European Union.
Our Grade Ti6AL-4V, ASTM F136 alloy is specifically designed for surgical implants, ensuring the highest quality and safety standards. Choose from a range of options, including highly polished or anodized colors, to express your unique style.
Not only does titanium exude sophistication, but it also offers unmatched practicality. Weighing only half as much as steel, yet twice as strong, titanium provides a durable and lightweight solution. Plus, its ability to be sterilized in an autoclave guarantees a hygienic and safe experience.
Embrace the allure of titanium for your next piercing journey. Elevate your style and trust in the unrivaled quality of this remarkable material.
Our Nickel release certificates are free and available anytime here.
For more information about our products, visit our information center